Beating enzyme
Product Overview: Beating enzyme is a high-efficiency enzyme preparation compounded by various enzyme preparations. Under appropriate conditions, the fiber is modified to achieve sufficient water absorption and swelling, as well as silk separation, thereby reducing the energy consumption of beating. Extend the service life of the sharpening and improve the paper strength.
Enzyme preparation series
---
MESSAGE
Mechanism of action: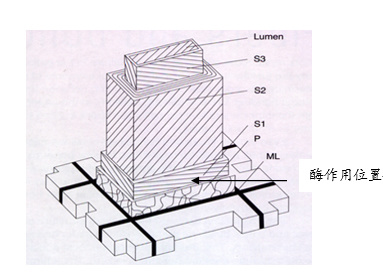 Diagram of the mechanism of beating enzyme action
Through the fine fibers acting on the surface of the fiber, the fiber is easily hydrated and pulverized, and the fiber is softened, so that the P layer (primary wall) and the S1 layer of the cell wall can be more easily removed by mechanical action in the subsequent beating process. The outer wall of the raw wall can save the electric energy consumed when the disc is refining, and prolong the service life of the sharpening.
Product advantages
 Reduce the energy consumption of the refining section by more than 10%
 Reduce long fiber slurry ratio 5-15%
 Extend the service life of the sharpening, save costs and increase pulp production
 Improve the strength of paper formation
Due to the multi-point connection between the fiber and the fiber after the splitting, the strength indexes such as the bulk, tensile index and tear index of the paper are improved to some extent.
 Reflecting comprehensive benefits
It has a certain effect on removing the stickies in the slurry. The long-term use can make the whole flow system of the paper machine cleaner, and reduce the cleaning times of the forming net and the felt.