Starch sizing enzyme
Product Overview: Starch size enzyme is the use of biotechnology to directly treat ordinary starch, so that it meets the requirements of paper surface sizing, can replace the surface sizing agent commonly used in the paper industry - oxidized modified starch.
Enzyme preparation series
---
MESSAGE
Mechanism of action: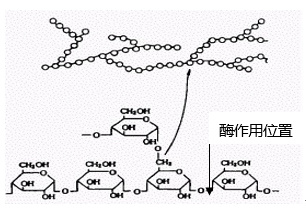 Schematic diagram of the mechanism of sizing enzyme
This product can randomly cut the α-D-1,4 glycosidic bond in the middle of the starch molecular chain without affecting the α-D-1,6 glycosidic bond, so that the molecular weight is reduced, the viscosity is lowered, and the temperature is raised when the viscosity reaches the requirement. The enzyme is inactivated, the viscosity is terminated and remains constant, and it has unparalleled flexibility for oxidized, modified starch. It can obviously improve the permeability and bonding force, improve the surface strength and sizing effect of paper forming, and reduce the occurrence of paper diseases such as hair loss and powder falling.
Product advantages: 1. Simple operation, no change in pH value, no subsequent production, no corrosive. 2. The paper mill can produce a series of starch gels of different viscosity by using a single starch raw material as needed. 3. Overcoming the shortcomings of the traditional oxidation starch modification method, such as high cost, difficult oxidation control and environmental pollution. 4. The amount of starch used can be increased by 15-30%, which can effectively stabilize the index and reduce the cost. 5. Increase the smoothness and surface strength of the paper, reduce the phenomenon of falling off the paper on the paper surface, and improve the printability of the paper.